Lifting tool in hand, a tray, a pre-cut drawing, imagination, creativity and large small doses of coloured sand: all the ingredients of fun are in Sabbiarelli, the toy designed by Ferrari Granulati, a Verona-based company that has been processing the most prestigious of Italian marble for over 25 years.
Born from a pure and simple element of white sand, transformed for the occasion with environmentally friendly colours, the rainbow of colours allow children to unleash their creativity with original drawings and incredibly brilliant effects.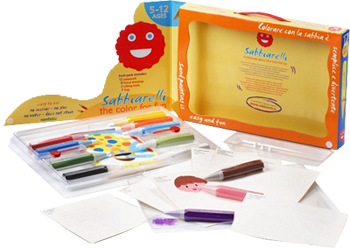 How a drawing is born


Look at how easy and fun it is!